#6 — Dr Darryl Stickel — Building Trust, Defying Limits and Leadership Growth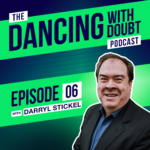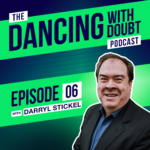 In Episode 6 I chat to the illus­tri­ous Dr Dar­ryl Stick­el about build­ing trust.
Despite fac­ing numer­ous chal­lenges includ­ing bul­ly­ing, visu­al impair­ment and mul­ti­ple head injuries, Dar­ryl has devel­oped a super­pow­er — an extra­or­di­nary abil­i­ty to build trust!
In fact, he has estab­lished him­self as one of the world's lead­ing experts on trust with expe­ri­ence work­ing for Mck­in­sey & Co, Advis­ing the Cana­di­an Mil­i­tary in Afghanistan and as fac­ul­ty in uni­ver­si­ties in Europe and the Unit­ed States.
These days, Dar­ryl runs his own con­sul­tan­cy in Cana­da, Trust Unlim­it­ed, where he reg­u­lar­ly engages with audi­ences across the globe through inspi­ra­tional speak­ing and coaching.
In this episode we go DEEP on all things trust:
- How to build trust as a leader
- Devel­op­ing trust in the workplace
- Gain­ing trust
- Trust­ing in yourself
- Estab­lish­ing trust
- Rela­tion­ship trust building
- Show­ing vul­ner­a­bil­i­ty for lead­er­ship growth
- Over­com­ing adver­si­ty and trust­ing others
- How to fos­ter lead­er­ship growth
If you enjoy this episode we'd real­ly appre­ci­ate your feed­back — give us a like, com­ment and share and be sure to sub­scribe to our YouTube chan­nel for more inspir­ing and moti­va­tion­al pod­cast episodes!
Episode Video
Episode Blog
Access here